In general, iTunes is a must to manage iPhone data.
The computer I'm using now is a computer that hasn't installed iTunes after replacing the computer that used the iPhone 6. Thinking normally, if you think normally, if you install iTunes here and connect it to your iPhone 6, you will lose all your music data and other apps.
I always thought so, so the data of more than 3000 songs was sleeping on the iPhone 6 Plus all the time.
However, I finally succeeded in transferring music data from iPhone to computer!
It's also free!
スポンサーリンク

What apps do I need to transfer iPhone music to computer?
All you need to transfer iPhone music to computer is an application called iFunbox.
Install iFunbox on your computer
Connect your iPhone to your computer
Transfer music data to your computer
This should be the end ... but that's not the case on PCs that don't have iTunes installed.
But without iFunbox, it won't start. Please download and install from the following site.
Click here to download iFunbox
http://www.i-funbox.com/ja/index.html
You can install iFunbox on a PC that has never had iTunes installed, but when you connect your iPhone, the message "Failed to load iOS Device Driver" is displayed and you cannot proceed and install iTunes. Prompted to.
Don't trust this to install iTunes. My data disappears from my iPhone. What happened there? This is the key to this article.
I couldn't move forward, so I stopped here. The iOSDevice Driver issue is solved by an application called AnyTrans. There is a charge here, but there is also a trial version.
Download and install the trial version of AnyTrans from the following site.
Click here to download the trial version of AnyTrans
http://jp.imobie. com /
When I started it after installing it, the error "Apple iDevice driver is not installed" was displayed. I was wondering if this would solve the problem I mentioned earlier.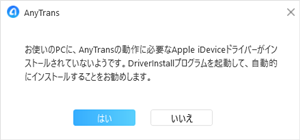 Click "Yes" to proceed.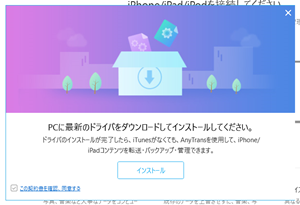 Alright! Something like that ♪
So this will install the following three:
Apple Application Support (64-bit)
Apple Application Support (32-bit)
Apple Mobile Device Support
Now, with this, you can access the data on your iPhone with iFunbox without installing iTunes. Not only music, but also videos, voice memos, ringtones, etc. can be retrieved.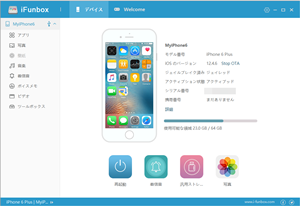 If you have the above three installed, you don't need AnyTrans anymore. You can remove it at any time from [Control Panel]-[Uninstall or change a program].
<!-Ads2-->
Precautions when retrieving music data with iFunbox
To transfer (export) music data from iPhone to computer with iFunbox, just start iFunbox, select the music you want to transfer (export) (check the checkbox) and click "Export".
However, we need to be careful here. If the file name is the same after being transferred (exported) to your computer, it will disappear.
What this means is that the full album, live album, and best album have the same song. If you transfer this from your iPhone to your computer, the song titles will be the same, so the file names will be the same. There should be 3 songs transferred, but only 1 song will be transferred.
Perhaps it will be exported in order from the top displayed in iFunbox, and the last song will remain. This is because it will be overwritten each time the same file name is found.
To be precise, the file name is saved on your computer in the format when it was imported into the original iTunes as shown below.
[Artist name] [Song name].m4a
And
[Artist name] [Song name].mp3
etc...
What you can see from this file name is that it's okay if the song is the same but the artist is different. There are only a few things that can't be erased with this, so it's just a relief.
Because of this specification that "if the song titles are the same, they will be overwritten and erased", in order to transfer all the music data without omission, transfer (export) each album and the number of songs on the iPhone side and the computer side You should make sure it matches.
It's a hassle, but please do it all at once, and later notice it and understand this feeling of yourself, "Again ... Do you want to do one album at a time? ... It's annoying."
Furthermore, because it was transferred all at once, more than 3,000 music files are transferred to one folder on your computer.
It takes an unusual amount of time to scan this folder each time it is viewed in Explorer. It's heartbreaking.
You may find it annoying because you will experience such "troublesome symptoms", but we strongly recommend that you transfer each album steadily.
And now, the song files transferred to that computer are being transferred to the smartphone one album at a time. This takes time due to the "annoying symptoms". But I can't help doing it, so I'm doing it.
Was this page helpful?
Although there are some points to be aware of, the music data of more than 3,000 songs that were literally "stored" are about to see the sun again.
Similarly, if you have given up on the data on your iPhone due to lack of iTunes, please give it a try.
By the way, the broken iPhone 7plus is completely paperweight, so it seems impossible to recover the data. Immediately after it broke, the power was on, so if I knew this method earlier, I might have been able to rescue the photos and videos.
Thanks for reading.
スポンサーリンク